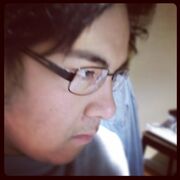 "Talks about video games. Pretends to know what he's talking about. My opinions are mimed. D:"
- Twitter bio
Hanh Nguyen — commonly referred to as "Mog" — faces out, holds out, and reaches out to the truth. Rumor has it that Hanh met Phil at a bar once, which spiraled into a weird series of events ending in Hanh as a Stream Friend. He streams some console classics, though he is also doing a new series on Stream Friends...to his own detriment.
-StreamFriends bio
Goes by the name "MogKnight" all over the interwebs.
Only appeared on Phil's stream like 3-4 times, BUT HEY he gets a page here anyways. D: Mog is now an official Stream Friends host! More Mog! More Mog!
Most people can't seem to pronounce or spell "Hanh" correctly, so he commonly goes by "Mog".
Generally trolls/moderates the stream's chatroom.
The only Asian who is bad at math.
He's also the leader (and sole member) of #TeamBoneIn
Recently did a speedrun of Super Metroid on StreamFriends, and does a series of viewer-submitted challenges called "MogKnight Rising".
Occasionally hosts "Stream Friends After Hours". That's a thing. Bring yo own booze.
Quotes (alphabetical by game)
Edit
"I don't need your platform!" - Super Meat Boy