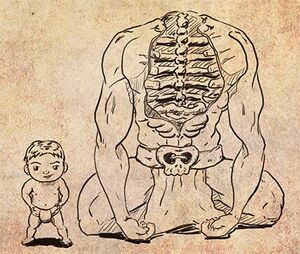 '
"Flesh Mecha'
" 
was coined by Austin during the
July 31st Dragon's Crown Stream
 during a discussion with Phil and Janine about the small heads and large bodies of the game's characters. Austin suggested that these weren't adults at all, but babies piloting bio-organic "flesh mechas." Yeah. It's gross.
Twitter user @Fobwashed provided an elucidating illustration later that night.
Ad blocker interference detected!
Wikia is a free-to-use site that makes money from advertising. We have a modified experience for viewers using ad blockers

Wikia is not accessible if you've made further modifications. Remove the custom ad blocker rule(s) and the page will load as expected.