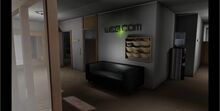 Created in response to the odd, clip-clop type sound made by the protagonist of the indie horror game "One Late Night", a Business Centaur is well known for wandering around spooky offices late at night, looking at things and gently stroking the tops of pens. They are often seen answering phones, wondering why their radios don't work, and dressing in business (centaur) casual.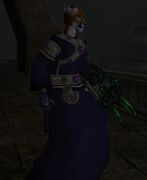 Business Centaurs are friendly creatures, though they have been known to become aggressive when denied their daily cup of coffee.
They have their hooves in many pies, and are considered omniscient. They are also the universe's only known makers of Purple Crime Gloves, as used by Kelsey and her Khajiit thief character in her Morrowind LP. (Pictured right)
References in Chat
Edit
Gwenna: "GALLOP TO FREEDOM, BUSINESS CENTAUR"